About Me!
Intro :  Before I start anything, I usually like to introduce myself, soo…. Hi! My name is Elyse Powers and I am currently a new gr. 9 student at Dr. Charles Best secondary school. Just a few things you should know about me before reading the rest of my blog page is that I enjoy singing, I enjoy playing soccer, I love reading almost any type of book (except for Harry Potter) (and yes, I know that's controversial), I enjoy writing and a few of my favorite musicians are The Beatles, Queen, Stevie Wonder, Elton John, Amy Winehouse, Billy Joel, Green Day, Weird Al, and a few one-hit wonders, to be honest my music taste is all over the place, and that's just the tip of the ice berg. I would write more for my intro, but you would probably be able to fill 5 dictionaries with the amount of stuff I would write… so yeah, that's just a bit of a glimpse of me before reading anything else in my blog. Enjoy!
My favorite quote: To be perfectly frank, I am very indecisive, so just trying to pick one quote is a problem for me, so I picked a couple . " Back in school again, Maxwell plays the fool again, Teacher gets annoyed" – "Maxwell's Silver hammer by the Beatles. I love this song, if you avoid the slightly dark plot of the song, I always thought that it was amazing that the Beatles could write a song about anything, even a goofy song about a guy wielding a hammer, and still have it sound amazing. Also this particular quote just reminds me of anytime I'm sitting in class, and well…it's pretty self explanatory. " I think I'm a banana tree" I'm going slightly mad by Queen. I just find this funny… the video is also great, I will include it in "my favorite YouTube clip", it's a great song by the way, it's utter nonsense but it's still great.
My favorite YouTube clip/video:  Like I said in "my favorite quote" the video for I'm going slightly mad by Queen is one of my favorite music videos of all time, it's got a lot of cool imagery and nonsense, a really interesting sound, also the makeup and costumes are great. Freddie Mercury gives me major Mr. Hyde vibes in this video. Anyway here is the link.
 A picture I really like: I know after reading the bit that you've read so far, you've probably seen a lot of stuff about music in here, just sayin', you're probably gonna hear and see more, as with this case.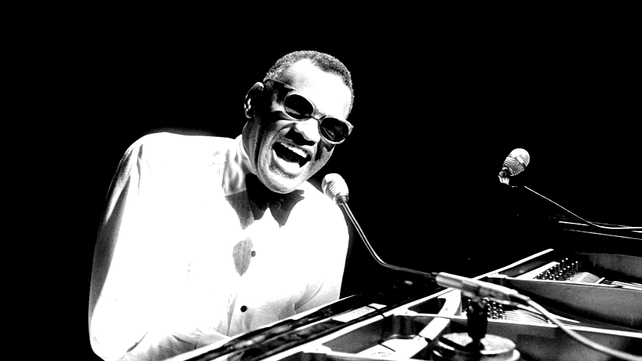 This is a photo of Ray Charles. I recently watched his bio-pic "Ray", and always find it amazing that even though he was blind, and brought a very different side of music (gospel) ( that was highly looked down upon) to the pop scene in the 50's, and faced a lot of criticism, he still kept on smiling and making music that eventually found its way to the top of the charts. Lots of trial and error, and it takes a very big person to fail and learn and still keep trying, and that's what I find so inspirational about Ray Charles. This photo in particular just shows how much joy and fun he was having while he was performing.
My favorite website: I really enjoy doing crafts and just finding good ideas or things like that, and so one of my favorite websites is Pinterest you can find almost anything on Pinterest, and that's why I like it.
That's a wrap! Congrats! You've successfully made it to the end of my "about me" blog page, I know sometimes lengthy description is not always desired, but good on you for reading it.