Customize – Tasks
2) Blog Appearance: You are going to personalize the appearance of your blog. From your Dashboard -> Appearance -> Customize, located on the left hand side of the screen. 
a) Site Identity – This is where you can edit the title of your blog. Please choose an appropriate title, that does not have both your first and last name in it. You can also edit your tagline. Your tagline is a very short sentence that gives the viewer a snapshot.
b) Colors – Edit the color scheme of your blog.
c) Header Image – This is where you can add and change the picture that is being used in your header.
d) Background Image – This is where you can adjust your background image.
e) Menus – You can create multiple menu structures. For simplicity, lets stick to 1. Make sure you select Menu Location -> Primary Menu -> About Me. Then click Save. This will ensure your menu stays the same, even after adjusting the theme.
f) Widgets – Locate and see all the widgets on your blog.
g) Static Front Page – Front Home Page Display is set to -> Static Page and Front Page is set to -> About Me
Optional – Your First Post: You are now going to create your very first post. At the top of the Dashboard -> New -> Posts.
1) Title – Create a title for your blog post. Your title will be: Things I am Excited About this Year.
2) Body – This is where you place your content of the post – text, videos, pictures, etc. Write a short paragraph about what you are excited about for this upcoming year at Dr. Charles Best. What are some things you want to get involved with? How will you become a part of the Blue Devil community?
3) Tool Bar – In your toolbar you can Add Media and Add Documents into your posts, this is the best way to create visual representations. You can also change fonts, hyperlink, etc.
4) Publish – Here is where you control what items are public and private. You can also control when they are published to your website.
5) Categories – Here is where you choose where you want your post to go. This is your digital binder with all of your subjects. Categorize -> Portfolio.
6) Tags –  Here is where you create tags, these tags can help you find things quicker on your blog and help you stay organised. Tag -> Portfolio
Morgan Perkins's Blog
Hi my name is Morgan. I live in Coquitlam, British Columbia. my elementary school was Glen and my middle school was Maple Creek middle and I currently go to Charles Best secondary school. I play hockey and this year my team is a very strong team. I used to play soccer and baseball. I joined four or five clubs at Charles Best and I'm going to join one or two sports teams at the school. I was on Maple Creeks badminton and volleyball team. my parents are not together anymore. At my dads I live with my dad and sister. At my moms house I live with my mom, sister, step-brother, step-sister and step-dad.
Quote
This is a world of action, and not for moping and droning in.
I chose this quote because it is very true. I think if you aren't doing anything your doing something wrong. You should always be doing something to help the world.
Video
My video is about a hockey hit on Marchand. I chose this video because I feel like Marchand is a very dirty hockey player and I do not like how he plays. This is also my favorite hockey hit of all time.
I got this video from the YouTube account @HockeyArchive
Picture
I chose this picture because I have been cliff jumping before over a 30 foot waterfall.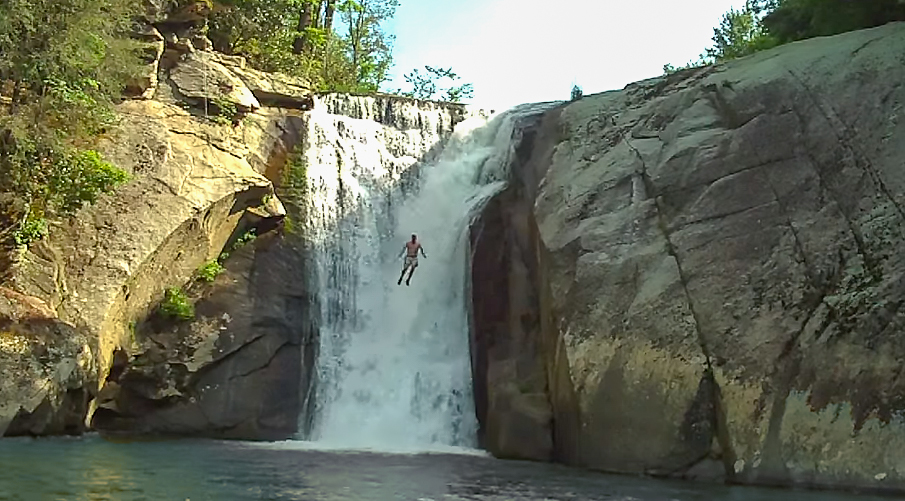 Hyperlink
I chose this hyperlink because this site is my best friend and it will save me so many times this year. I am going to use many of the other things that this site can do.